When try to update ETKA 7.5 Audi Seat Skoda, some users fail to do this and usually got this message as below. Here, one CT member share his solution with all. Try on your on risk
Info pops up when fail to update ETKA 7.5:
Important ETKA 7.5 information
This data update can only be processed by the current version ETKA 7.5. It

's now possible to install ETKA 7.5 quickly and efficiently even without an ETKA DVD via Internet.
Note on installation:
Please deactivate you local antivirus software for the duration of the installation.
After installation has finished, you can find additional configuration information as well as details about new functions by clicking on the ELERNING button on the pressing F1 in ETKA.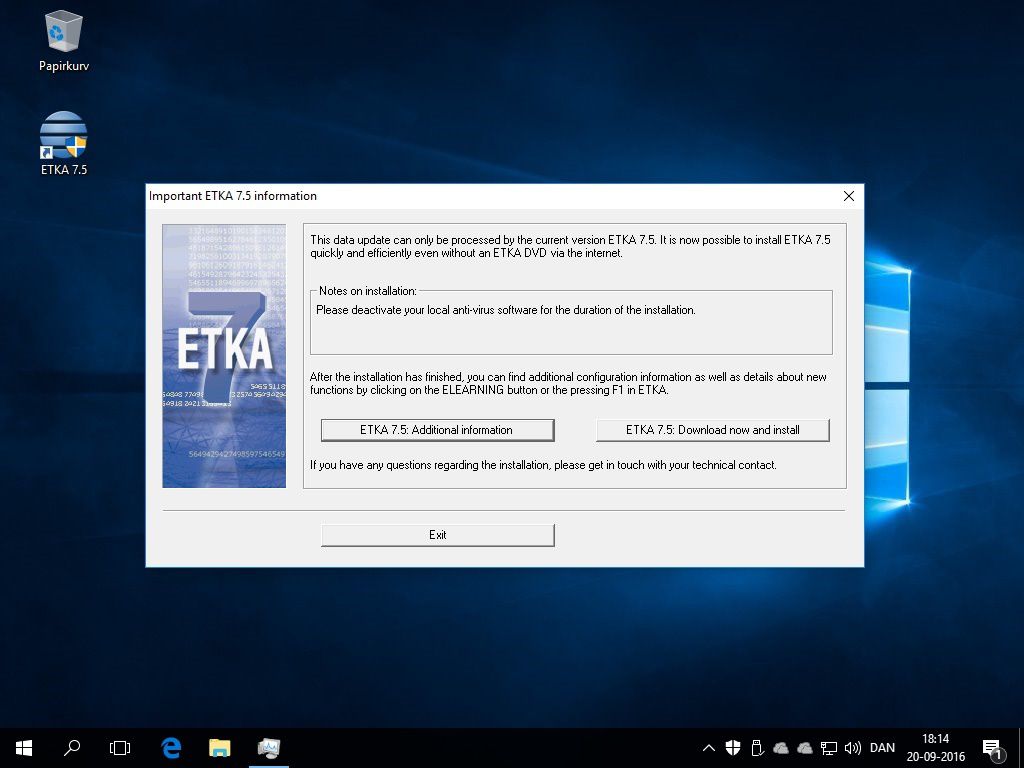 EDIT: SOLVED IT!

It did indeed work to upgrade every make to the last update before ETKA 7.5 PLUS. This means you need to upgrade ALL makes to the following versions before you proceed with the rest of the updates:

VW 1120
Audi 1120
Seat 646
Skoda 652

ETKA crashed twice during the update process (after upgrade to ETKA 7.5 PLUS) which made the database corrupt. Solution was reinstall and this happened twice. The third time i re-installed it i put it on C: drive instead of D: and this time it worked flawlessly.

Not sure if the installation location actually has something to do with the application crashing (it actually gave me a bluescreen both times) or if i just had bad luck twice in a row but i thought it could be worth mentioning.

I just ran into the same issue on a fresh install.

I suspect the problem is that i updated VW with all updates to the current date and then tried to update Audi/Seat/Skoda which failed and gave me a message that i needed to upgrade ETKA to 7.5 (which already have been done).

I just did a reinstall of ETKA and are now trying a different approach which includes updating every single make to the LAST update before the notice/message that you need to upgrade to a new version of ETKA.

After the upgrade have been done i hope that it is possible to update all different manufacturers.

I am not able to do any more testing before the weekend, if anyone else have the possibility to confirm if this is working or not it would be great.
(BIG THANKS to @MR-X in the CT community)
Pour être informé des derniers articles, inscrivez vous :